So I finally got Photoshop and so I can make the pretty. However, from making my first picspam, I learned several things. First of all it's become abundantly clear why I shouldn't picspam often is because apparently I am unable to put together a picspam that is a normal size and instead feel the need for it to be of EPIC proportions. I need to work on this. At the very least I did most of the capping/coloring while listening to some new music and watching a very emotionally manipulative movie Pay It Forward, so at least I was amused.
So, since I spent all day slaving over this and The Vampire Diaries was absolutely fantastic this week (which a show will be when you place Julie Cooper in the midst of soapy supernatural drama) I give you: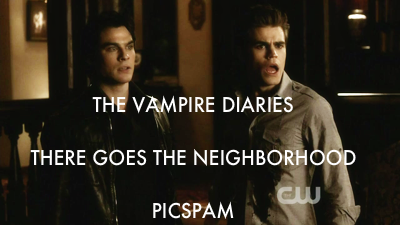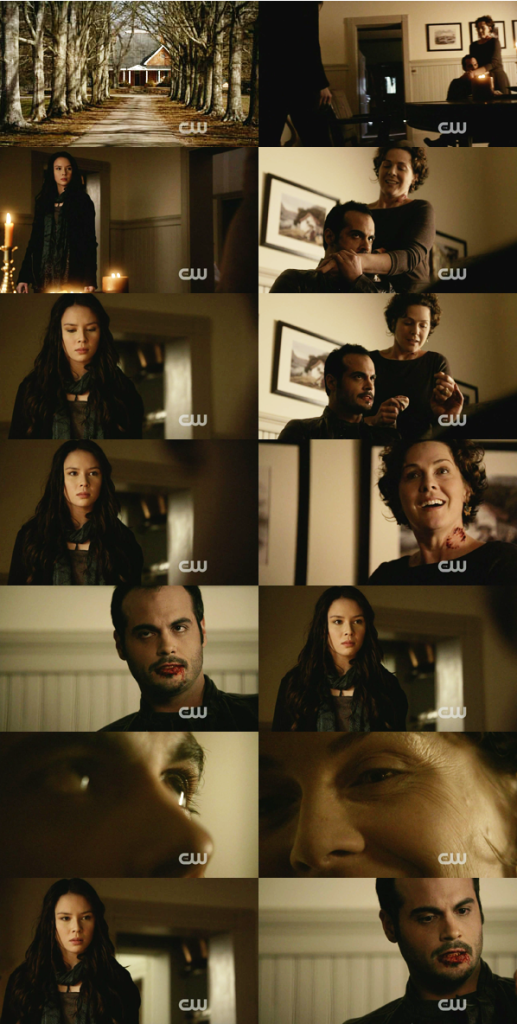 So, the first thing my roommate says when this episode starts is "Oooh pretty!" which I didn't get because when you see a picturesque house secluded in the middle of the woods that's the first sign that shit is about to hit the fan. I mean, has she seen The Last House on the Left? CREEPY GUY IS CREEPY. And Anna doesn't seem to be digging the exploitation of this poor housekeeper.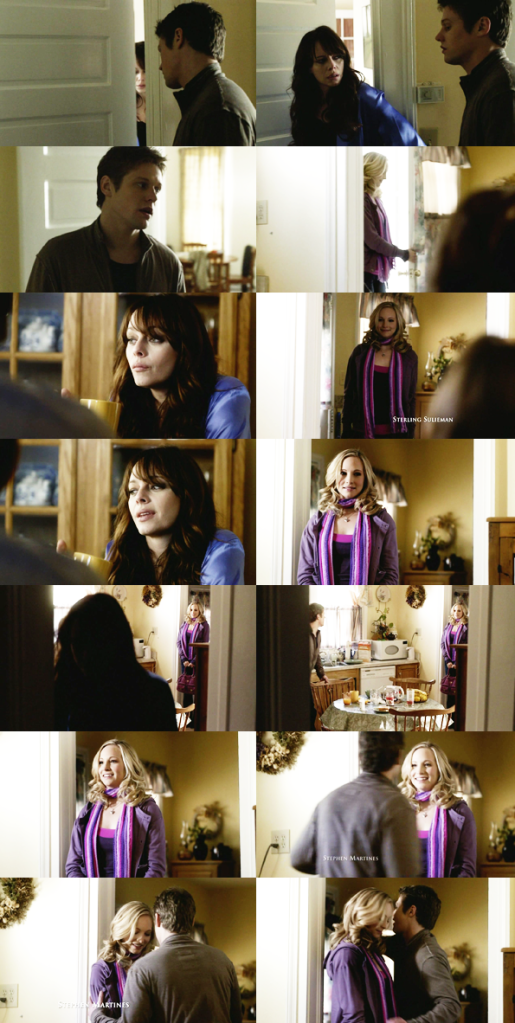 Poor Matt. He's like the parent. "It wasn't a party. It was one guy. Stop being so judgy!" That makes me want to write my own mother a thank you letter. And poor Caroline.
Julie Cooper: You can be my Ryan Atwood of this TV show while a totally do not approve of you dating my kid who I never even spend 10 seconds with anyway.
Caroline: :(
Julie Cooper: But maybe when he dies a tragic and out of the blue death come Season 3 I can hire you to kill his murder and then we would totally be in business.
Caroline: ...
On a side note, how adorable is it that Caroline's face completely lights up when she sees Matt? AWWWW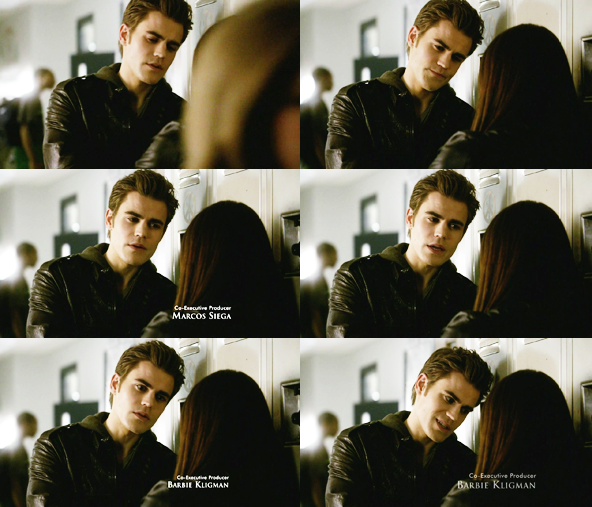 These past episodes being a Stefan hater has been a lot of fun because you get these =O moments where he's actually being protective and brotherly of Damon and stops being a self righteous ass for, like, 5 minutes.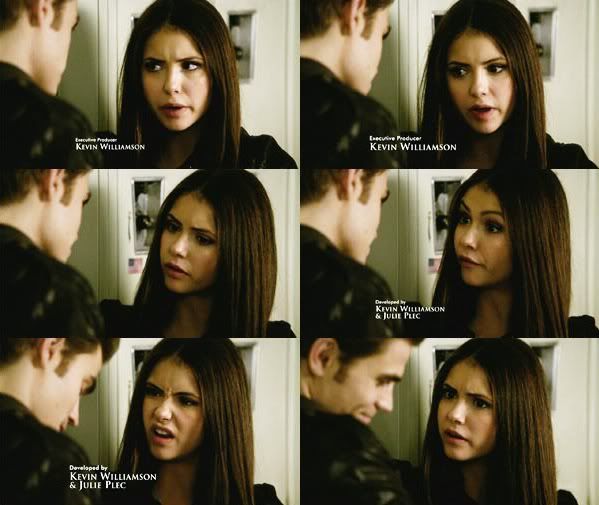 "About what? Isobel? My vampire birth mother who is related to my vampire ancestor, Katherine, who screwed over your vampire brother? Naw. I haven't thought about it at all."
LMAO!!! Nina's facial expressions here kill me. This is why I love Elena when she's hanging around
the better brother
Damon. Girl has a personality, she just needs to loosen up and let it out. You get little moments like this, and it reminds me of Awesome!Drunk!Flirty! Elena that we got in Bloodlines. ~ le sigh ~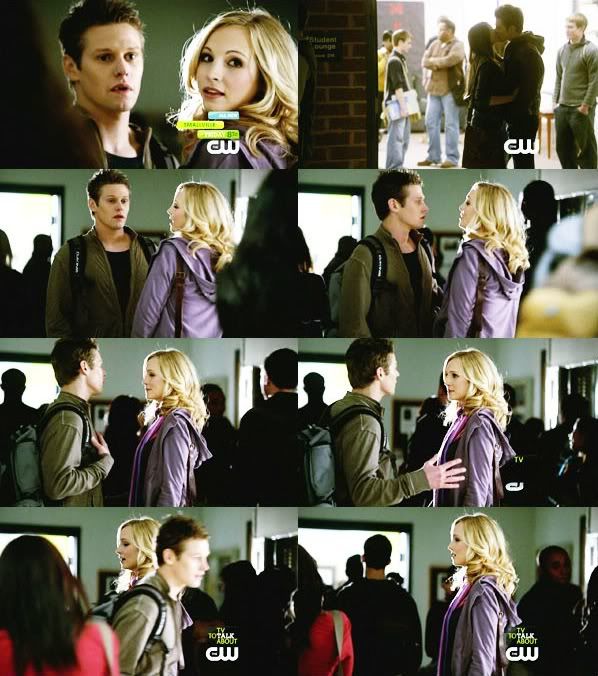 MATT'S FACE! Ahahaha It's between a mixture of slightly horrified and disgusted as he watches Stefan and Elena press their lips together while trying to create something resembling chemistry.
Caroline: Why can't you show me some love?
Matt: Sorry, I has just being subjected to one of Kevin Williamson's efforts to make his couple of epic fail likeable.
Caroline: Awww bb! I'll give you a kiss and make it better.
Matt: I can't! I must leave! My eyes!

So apparently The Super Creepy Guy has a problem with authority, in this case, Pearl. She tells him that if he has any common sense he'll stay in the house while he tells her that he doesn't take orders from anyone. Accept, ya know, later.

Caroline, I love you , but NO. Why are you suggesting a double date? Haven't you ever seen a television show? If the Gilmore girls couldn't get through a double date without a Bop-It, there's no way this is going to end well for anyone. Especially the TVD fans watching it go down because a double date between S/E and M/C is as boring as watching paint dry. Make it D/E and M/C. Now,
that
would be something.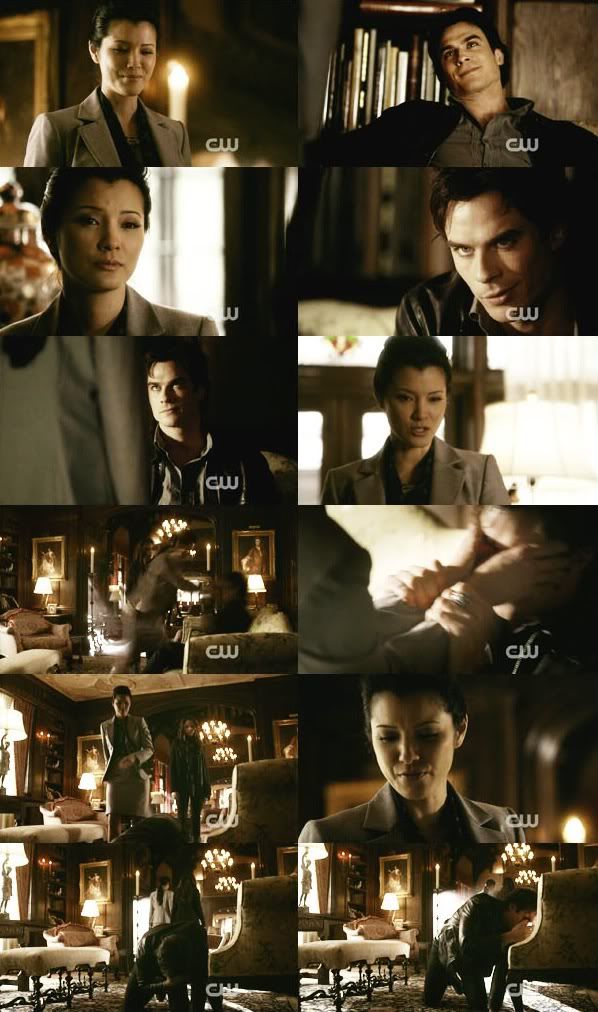 Meanwhile, Damon and Pearl have a showdown. She wants to be HBIC of Mystic Falls but, sadly, there's no need for that position to exist as Damon has fulfilled all those qualifications. Pearl tries to make him her bitch through emotionally manipulating him by hanging the vision of finding Katherine in front of his face like a bone. Damon tells her that Katherine can take her bitch ass self and fuck off, and that he's not going to be her whipping boy. Pearl eye gauges him.
Me: NOT THE FACE, PEARL!!! NOT THE FACE!!!

I know I never cap any S/E scenes really due to their inherent ability to trigger my gag reflex, but this Stefan moment was just to hilarious! Apparently the last time he was on a date '72. "Hef and the twins. I got Miss June." I hope we get to see where Stefan's been for the last century and a half. I mean, COME ON. are we supposed to believe that this guy who wouldn't even have a wiggle on the dance floor with his best friend that he's known for, like, 135 years at his own birthday party in episode eight actually spent his formative years as a glorified pimp? It sounds like the writer's want us to buy into Stefan partying hard before brooding booked up his schedule.
I love that even when Damon's using sunglasses to hide his sensitive eyes it leads me onto a whole other tangent of thinking that he doesn't nearly have sunglasses on enough. Damon should get wounded every episode. Only, except, the very thought of someone harming my bb makes my heart break. And I love that Julie Cooper and Aunt Jenna are total besties! Who would have guessed that Aunt Jenna is the Kristen Cohen to our Not!Julie Cooper? OH HELLZ YEAH.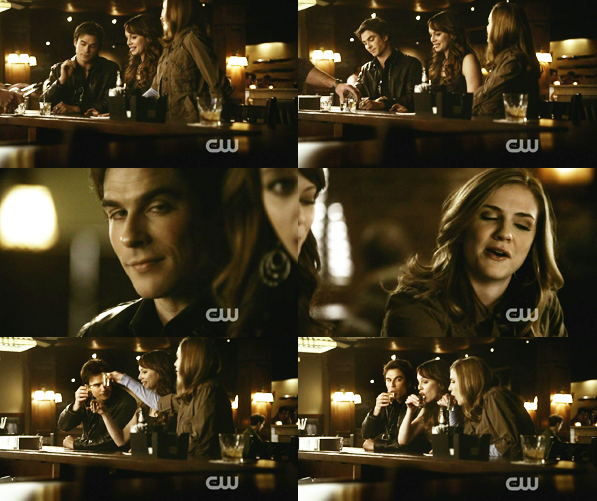 Damon, Julie Cooper, and Jenna = OT3 ♥♥♥


I love that although he's making out with Julie Cooper in the later half of the episode, Damon and Jenna are totally eye sexing each other from across that bar. KW would have probably had Damon hook up with her too like he did Elena's mom if our girl JPlec wasn't holding the reigns. But, what difference would it make? I mean, have you
seen
Gossip Girl? Blair slept with Chuck's uncle on New Year's. The CW likes their OTP's to keep it in the family.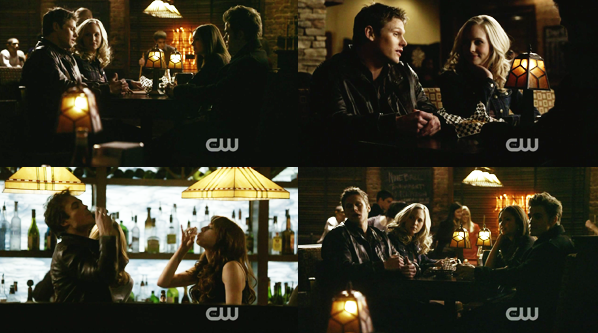 On The Vampire Diaries:
This Is How Much Fun You Could Be Having
Edition, Matt and Elena have a trip down memory lane, talking about how normal and happy their lives were before the Salvatores crashed the party. Caroline's not very touched. And Stefan just sits there passively with the same facial expression plastered across his face while he's like "OMGLOLAWKWARD!" All this happens while the party is looking at my OT3 having an all around good time with the booze at the bar.

I'm sorry. That cap with Damon smirking adorably with the shot glass = LOLOLOL!!! It's my favorite cap of the episode! I love that he and Elena are having ~ true love eye!sex ~ from across the room while Stefan looks on like "WAS MY GIRLFRIEND VIOLATED? I THINK SHE WAS JUST VIOLATED."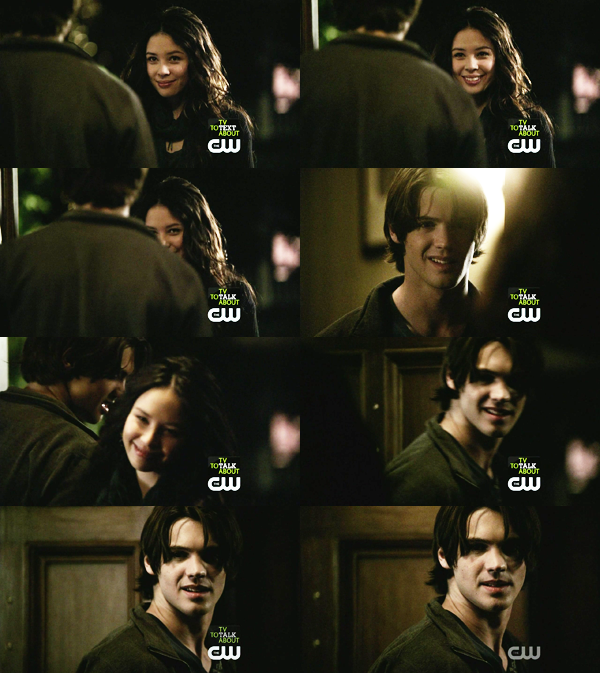 Oh, these two. Anna shows up at Jeremy's after crushing on him for the whole episode and is seriously giddy and shit, while Jeremy looks adorably happy and then is all "ehhhhh......"

CAROLINE AND STEFAN HAVE SO MUCH MORE CHEMISTRY THAN STEFAN AND ELENA WILL EVER TRY TO HAVE. TRUFAX. Seriously, though, they remind me of Angel/Cordelia 2.0. And Paul and Candice are just adorable. I will always ship them even though Matt/Caroline is my OTP for life.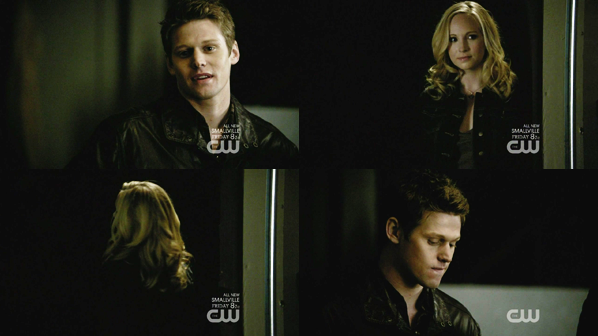 Matt has a douchebag moment! ALERT THE MEDIA. I know that he tries to justify it later on while he apologizes, but it is just NOT COOL to bring up details about a past hookup in a sports car with your ex while she and your significant other, who you know is very insecure and who's being totally abused by your mom, is in the room. I thought you knew better Matty.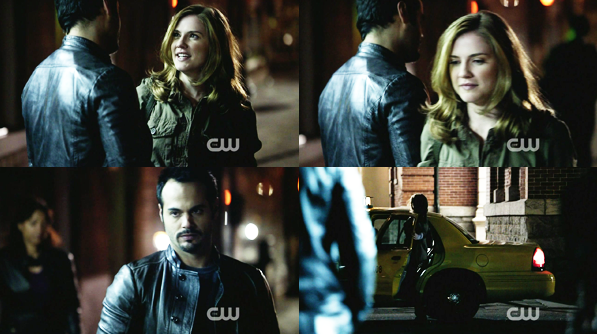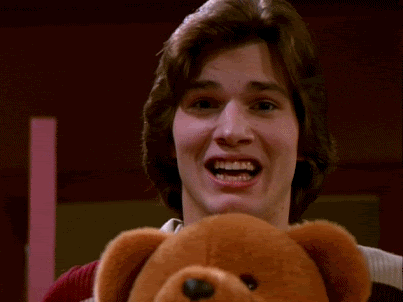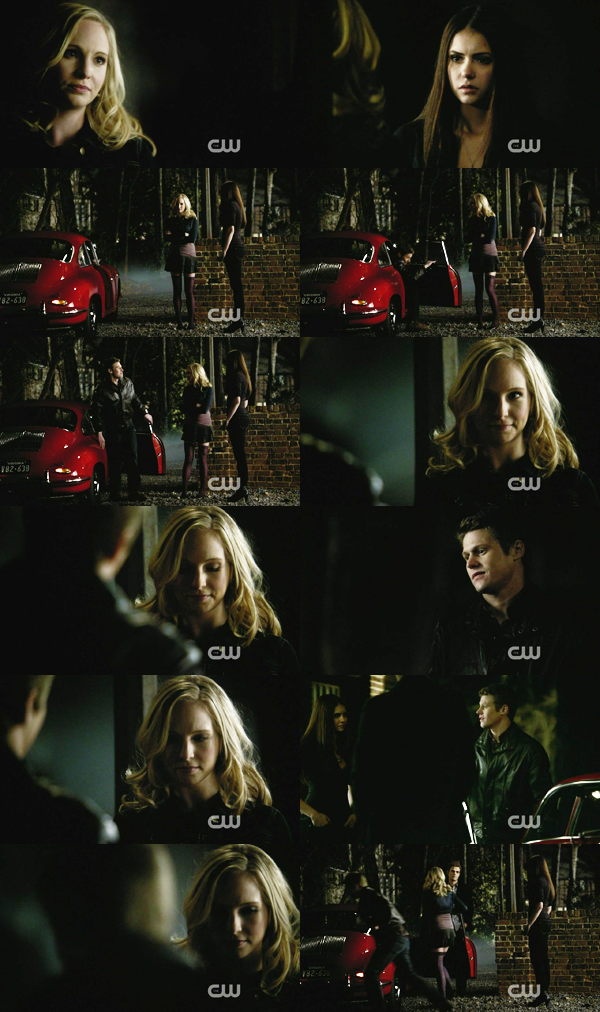 Caroline is being ridiculous? WTF Elena. I thought you saw her as one of your best friends. Don't you know her at all. I love you girl, but that was a low blow. "I'm Matt's Elena backup, and I'm your Bonnie backup," Caroline says. "You don't get it. And why would you? You're everyone's first choice." After everything, Caroline is still, at her core, the scared and insecure little girl we met in the pilot episode. How adorable is Matt when he opens up the door for her? But, he doesn't get any cool points because he's still making up for his very first douchebag moment. Oh, and Caroline's skirt is all levels of ridiculously short. Not that I mind, it's Candice freaking Acolla, but I was sitting there watching like "WAS I FLASHED? I THINK I WAS JUST FLASHED."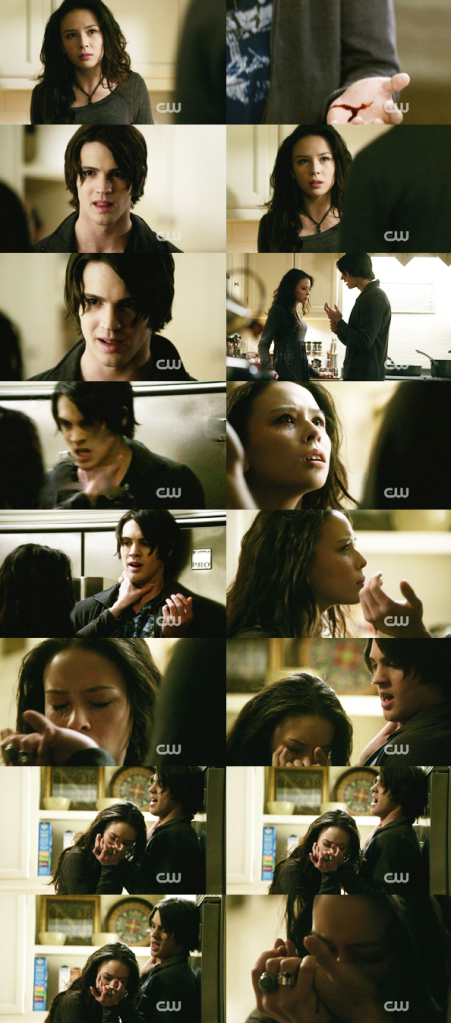 IT WAS STRANGELY HOT. THEY WERE BOTH TOTALLY TURNED ON. JEREMY WAS DIGGING IT.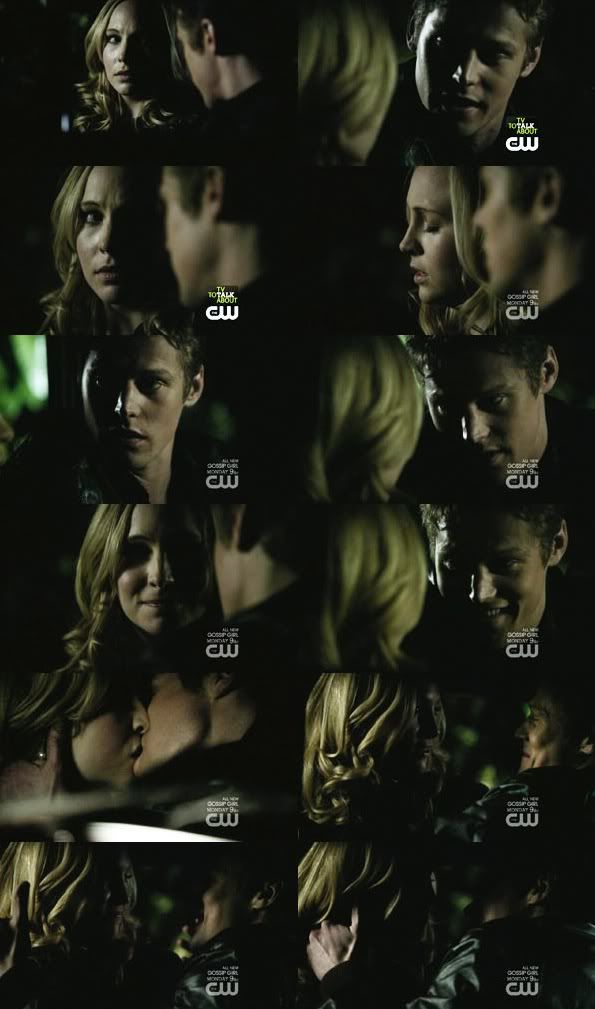 EXCUSE THE CAPS. I LOVE THEM SO MUCH. THEY ARE MY FAVORITE. THIS SCENE MADE MY STOMACH MELT AND MY HEART GREW TWO SIZES TOO BIG FOR MY CHEST. I LOVE ALL THE BACKLIGHTING. AND CAROLINE'S HAIR AND MATT'S ADORKABLE SMILE. AND THE PRETTY PEOPLE KISSING.
H.O.T. I swear, Ian has chemistry with anything that crosses his path. A wall, a stone walkway, grass. Oh, and Damon and Julie Cooper have the best busted faces ever.

OMG Damon's FACE in that first cap! It makes me laugh so hard. He's just like "That's right gurl. Drink it in bb. That could be you with your legs wrapped around my waist."
RESIST YOUR STALKER TENDENCIES, STEFAN. Elena will get home just fine. You can't follow her around everywhere. Wait, no, you
did
. Without her knowing. For an entire
year
. Anyways, back on point. Just say no to those urges. Cold turkey. That's the only way to do it.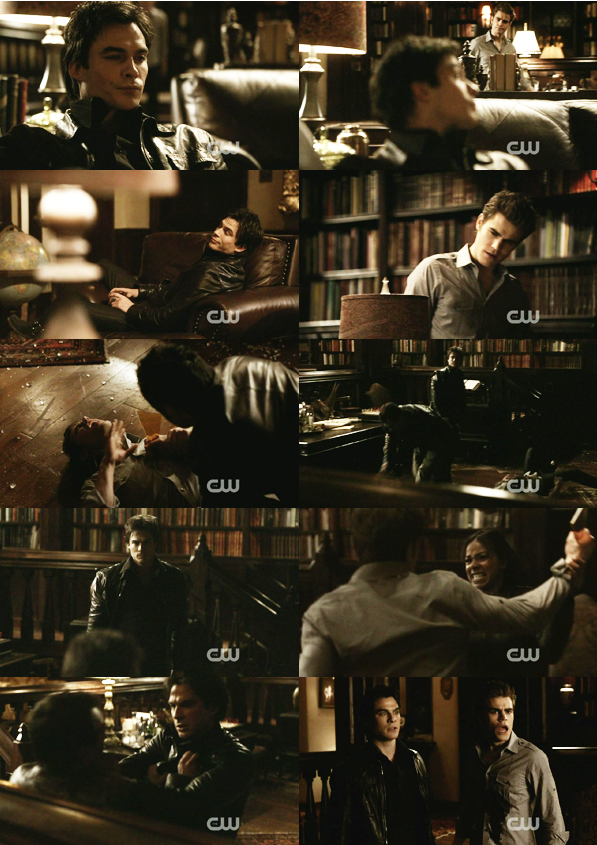 LMAO @ Damon totally knowing what is coming next as Stefan enters the room. The Salvatore Brother Snark and Self Righteousness Powwow is my favorite part of every episode. Patronizing look, biting remark, lather, rinse, repeat. However, our boys are rudely interrupted by The Super Creepy Guy and girlfriend. How wonderful was it that Damon was up and of his feet to save Stefan's ass again? He threw that guy across the room with such force and started to come up on him with his fists of justice and the look on his face made me do a callback to Willow in Buffy when's she's all "I give you PAIN!"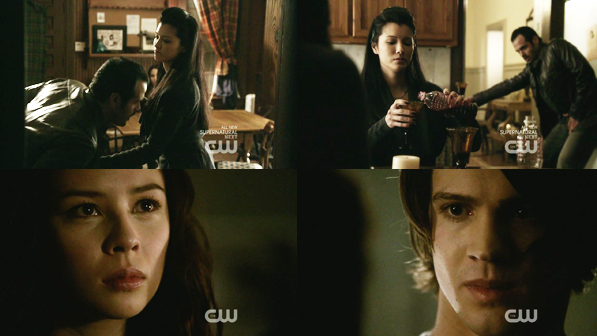 Valuable lesson if you are an asshole vampire that has a problem with authority: listen to Pearl. Or else she will stab you with kitchen utensils. And there it is: "I want you to turn me." No, Jeremy! No! Can he just go back to doing drugs? Compared with turning into a vampire, illegal pharmaceuticals are a much healthier way to fill up the empty space inside of you. You have much to learn, grasshopper.
Current Mood:
bouncy
Current Music: The Mess I Made: Parachute